Human Power Label Applicator
A tabletop tamp type label applicator for flat and slightly curved products. Requires absolutely NO electricity or compressed air to operate. Easy to use. Simply turn crank knob to advance label into channels and press down on tamp applicator to apply.
LabelOn™ Tamp Label Applicators are designed with compact robustness in mind. They are powerhouses in small packages that allow for production on a smaller scale without compromising the quality of labelling. LabelOn™ 's lineup consists of highly accurate and proficient semi-automatic labelling machines which are undoubtedly a step up from hand labelling. 
Small Labeling Machine Features: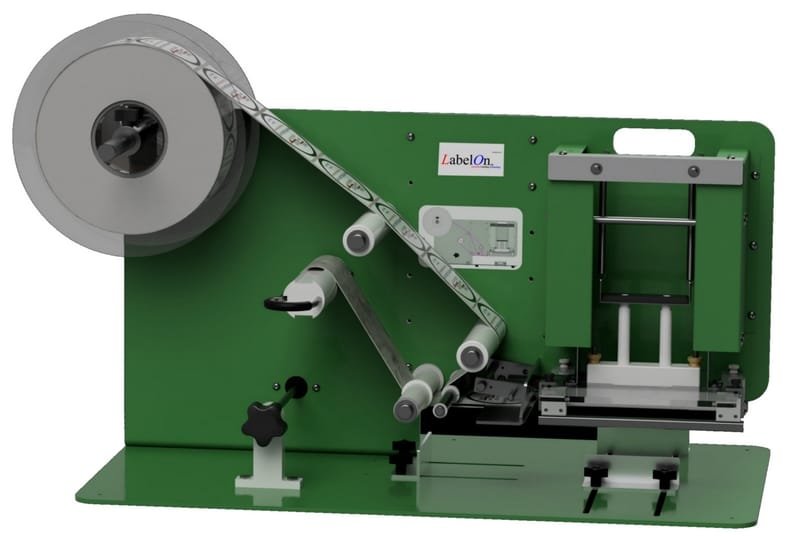 Combines the speed and accuracy of a label applicator without the need for electrical power. Perfect for remote locations or hazardous environments.
Three adjustable guides are provided for accurate positioning of articles.
Can label articles with a thickness of up to 5 3/4 inches.
Optional finger applicator pad aids in adhering labels to curved surfaces and articles with recessed surfaces such as plastic lids.
Liner paper is rewound for easy disposal.
Can be easily upgraded to a motorized Model LMCST
Mini Labeling Machine Specifications:
Label supply roll – max 10" diameter, 3" core ID
Label length: 3″ min, 9″ max
Label width: 2 1/2″ min, 6″ max
Die cut labels with a minimum 1/8" gap between labels
Durable steel and aluminum construction. Powder coated finish.
Approx. Weight: 56 pounds
For Labeling Flat Products
Abilities and Limitations
Can apply square, rectangular, oval and round labels.
Contact us if your labels have unusual cutout shapes or are made from very flexible material such as plastic film (BOPP) or acetate. Labels require some stiffness to work properly in our machines.
Labels are pressed onto articles with the tamp plate however the plate does not reach the label edges. You may need to press the labels by hand (either individually or in a stack) to completely adhere the edges.